Pine Mountain Ski Jump
Iron Mountain, Michigan
Continental Cup SkiJumping
February 25, 26, & 27, 2004
Come out and enjoy the outstanding jumping
Ski Jumping Through the Eyes of First Graders
ThePine Mountain Ski Slide is one of the tallest artificial ski jumps inthe world. It's a really big slope and a really big slide. EveryFebruary jumpers come from all over the world to jump off the PineMountain ski slide.
You have to climb up to the top of the slide andcarry your skis. The jump looks like a slide but you are standing upon skis. You go down the slide fast and jump off and fly like a bird.It's hard when you land and you have to stop before you get to theend.
Lots of people come to see the jumps. You can walkaround or sit in the car if it's really cold. People bring food andgrills and eat hamburgers and hot dogs and beans and veggies. Somepeople buy food at the big tent.
Last year it was very very cold. Masahiko Haradafrom Japan tied the North American hill record of 459 feet. He jumpedalmost to the bottom of the hill. Everyone honked car horns or rangcow bells. It was lots of fun.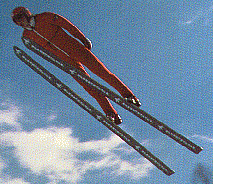 In the summer you can go to the top of the hill.You see lots of stuff. It's like you're on top of the world. The PineMountain Ski slide was built in 1937-38.
The jumpers will be back on February2004
This page created, compiled andplanned by the
First Grade, Room 203, WoodlandSchool, Kingsford, Michigan
Back to Iron Mountain, MIRecreation
Back to Upper PeninsulaRecreation
Back to Upper Peninsula Townsand Cities
Back to Upper PeninsulaTraveler
Back to Exploring the North HomePage
Copyright 1997-2001, by the webmaster for Exploringthe North. All Rights Reserved. Except as permitted under theCopyright Act of 1976, as Amended, this web site may not bereproduced in whole or in part in any manner. Unless authorized bythe webmaster of Exploring the North, Inc., reproduction of any webpage or pages on the Exploring the North website for placement on theinternet is a copyright infringement. All right, title and interestin and to the material on our web pages, the web site, in whole or inpart, and in and to this url and the urls contained within, is theproperty of the webmaster for Exploring the North, Inc.