Vagabond Park, Inc.
Proudly Presents
The 2015 Badwater Ski-Ters Waterski Show
VAGABOND PARK on the MENOMINEE RIVER
SPREAD EAGLE, WISCONSIN.
Celebrating 53 Years of Family Oriented Water Ski Entertainment
5 miles west of Iron Mountain Michigan, just off Highway US-2
See you at Vagabond Park!
Bring a lawn chair or a blanket and enjoy an exciting evening at Vagabond Park
Badwater Ski-Ters Water Ski Shows
Rain or Shine...Every Wednesday and Sunday Summer Night at 6 p.m. (central time)
on the Badwaters of the Menominee River in Spread Eagle, Wisconsin
Watch for our sign 1/2 mile past the bridge over the Menominee River
Come out for a pleasant evening and enjoy a great water skiing show.
2015 National Team Jump Champions!
The Badwater Ski-Ters Jump Team took 1st place at Loves Park, Illinois on August 7, 2015
CONGRATULATIONS JUMPERS!
2015 SHOW SKI NATIONAL CHAMPION TEAM JUMP
Adam Michaud, Ben Ryan, Caleb Harrington, Brett Michaud, John Kriegl, Andy Ross, and Dan Shaughnessy
Drivers, Spotters, and Announcer
Jump Teams from both Division I and Division II competed in this event

* * * 2015 WISCONSIN STATE WATER SKI SHOW TOURNAMENT * * *
Wisconsin Rapids: July 16-19, 2015
DIVISION 2 CHAMPIONS
BADWATER SKI-TERS: 2015 DIVISION 2 STATE OF WISCONSIN WATER SKI SHOW CHAMPIONS!
The Badwater Ski-Ters also took first place for the Team Jump Event and the High Individual Club Act.
Congratulations to the entire team for an amazing performance!

GREAT SKIING BY THE ENTIRE TEAM!

Ski-Ter News
STATE OF WISCONSIN 2015 JUMP CHAMPIONS!
Halee Martin (announcer) , Adam Michaud, Ben Ryan, Todd Broullier, Caleb Harrington,
Jim Martin, Brett Michaud, John Kriegl, Tony Pericolosi, and Dan Shaughnessy.
Badwater Ski-Ters Jump Team
1st Place
Wisconsin State Water Ski Show Championship
July 16, 2015

Congratulations!
Great Jumping!
| | |
| --- | --- |
| | |
| | All Girls Pyramid |
Come out to Vagabond Park and enjoy our water ski show.
| | |
| --- | --- |
| | |
| | |
| | Badwater Ski-Ters Ballet Line |
Photos from the Badwater Ski-Ters Water Ski Show at the Escanaba Sesquicentennial Celebration, July 2013
BADWATER SKI-TER NEWS
Badwater Ski-ters Jump Team will jump at Nationals
August 7, 20154, at Loves Park, Illinois
Bridgefest 2010

The Badwater Ski-Ters All Girl Pyramid skiing under the
Portage Lift Bridge connecting Houghton and Hancock, Mchigan.
The lift bridge will rise 100' for boat passages and is the largest and heaviest
double deck vertical lift bridge in the world.
Way to go Girls!
* * * * * * * * * * *
Enjoy Funny Ski-ters Clips
Funny moments taken from the Badwater Ski-ters performances 2003-2010
* * * * * * * * * * *
Jump Team Takes 2009 National Championship!
Badwater Ski-Ters Jump Team takes 1st Place
at the 35th Division I Show Ski National Championship Tournament
The jumpers impressed the judges with their daring tricks including
The Widow Maker (a back gainer over a front flip), the Devil's Weave, Gainers,
Flips, and the Pinwheel (a little bit of everything).

Badwater Ski-Ters 2009 National Champion Jump Team
Members: Eric Berglund, John Kriegl, Adam Michaud, Brett Michaud, Andy Ross, & Dan Shaughnessy
Boat Drivers: Jim Martin & Joe Kriegl. Spotters: Nicole Martin & Mark Schinderle
Announcer: Kevin Richtig

Yes, they really do land on their skis and ski away!
See the Badwater Ski-Ters Water Ski Show and watch the finest jumping in the country.
---
| | |
| --- | --- |
| | |
| Swivel Line | 2013 Ballet Line |
| | |
| Joe and Jordan | Strap Doubles and a Trio |
2015 Badwater Ski-Ters Water Ski Shows
Wednesday & Sunday Nights at 6:00 pm (cst)
Wednesday Shows, June 10th through Augus 5th
Sunday Shows from June 14th through August 30th
Check our Show Schedule for times and dates.
---
Special Show:
Saturday, July 4th at 2:00
Sunday, ASeptember 6th at 2:00 p.m.
Come out and spend a delightful afternoon on the shores of Badwater Lake
and enjoy the Badwater Ski-Ters Water Ski Show
2015 Badwater Ski-ters Waterski Show Schedule
Always Fun! Always Free!
All shows are central time
Click Here to view a video of the Badwater Ski-Ters 2008 Night Show
---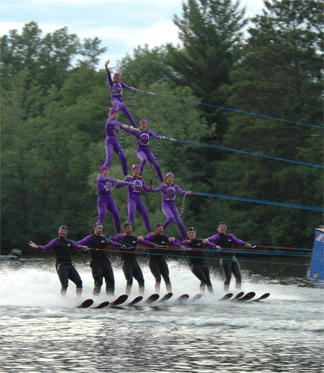 2006 Badwater Ski-Ters Final Pyramid
Bottom Tier: Brent Larson, Joe Kriegl, John Kriegl, Tim Nelson, Brian Lequia, Josh Short
Second Tier: Nicole Martin, Erica Sleik, Beth Zaio
Third Tier: Jamie Roberts, Kristie Unger
Top Tier: Vita Hill
---
Cowboys Homer and Junior are on their way to California in their unusual covered wagon.
Somehow they took a wrong turn and ended up in the great Midwest on the Menominee River
instead of the wild west of California.

Come out and watch the show and see what those two are up to this year.
BADWATER SKI-TERS INVITED TO CHINA
Members of the Badwater Ski-Ters have been invited by the Chinese Water Ski Association to participate in the 2006 Sino American Water Ski Shows in China. Skiers Jen Nelson, Nicole Martin, Halee Martin, Joe Kriegl, John Kriegl, and Brent Larson, Announcer Jeneen Martin and Driver Jim Martin will travel as guests of the Chinese Water Ski Association to Beijing on April 27 and return to the States on May 12.
The trip is fully funded by the Chinese Water Ski Association.
The team, along with skiers from the Wisconsin Rapids Aqua Skiers, will be performing 4 shows in Liaocheng City and 4 shows in Najing.

In addition the team will participate in training days with the Chinese National Show Ski Team and be treated to sightseeing excursions in Beijing and Shanghai.
2010 Badwater Ski-Ters 4-tier All Girl Pyramid
The Badwater Ski-Ters present shows Wednesday and Sunday Nights at Vagabond Park in Spread Eagle, Wis.
The shows are scheduled to begin at 6 p.m. Admission is free.
Shows Wednesday Nights at 6:00 Central Time through August 5th
Shows Sunday Night at 6:00 through August 30th
Special Night Show Saturday July 25th at 9 pm, central time
Celebrate the 4th of July weekend with the Badwater Ski-Ters.
Water Ski Shows July 4th at 2:00 in the afternoon
Special Show Labor Day Weekend
Sunday, September 6th at 2:00 in the afternoon
---
Nicole doing a flying dock start back barefoot
Come see some of the best water skiers in Northern Wisconsin and the Upper Peninsula of Michigan.
Our exciting Water Ski Show is presented every Wednesday and Sunday at 6:00 p.m. CDT.
The Badwater Ski-Ters present a free, wholesome hour and a half show throughout the entire summer season.
Don't miss our Night Shows presented Saturday, July 26th at 9pm.
Come out and enjoy Water Skiing Under the Stars, a unique night skiing spectacular
and have a wonderful evening.
The Badwater Ski-Ters Water Ski Show is located just 5 miles west of Iron Mountain, Michigan
on Highway US 2 & 141. Watch for the signs.
| | |
| --- | --- |
| | |
| | |
| 2009 Ballet Line | Staggered Swivel Line |
Refreshments are available at the concession stand.
Bring a blanket or a lawn chair and enjoy a wonderful water ski show.
Watch the exciting barefoot line, thrilling jumping, trick skiing, swivel skiing, deep water barefoot, wakeboarding, ballet line, Eric on the fantastic Sky-Ski, strap doubles, the breathtaking pyramid, plus many more acts designed for your enjoyment. Enjoy our WIP Show where the new skiers present their acts.
You will laugh out loud at the hilarious antics of our "Park Rangers" JUNIOR and HOMER who take care of Vagabond Park.
Check the skies overhead and you may see a bald eagle searching for his dinner in Badwater Lake.
Over the years many Ski-ter Alumni have become professional water skiers.
Our Concession Stand serves soft drinks, candy, chips, and ice cream novelties.
Enjoy a bag of fresh popcorn popped on our new popcorn machine.
Bring the Whole Family ! No admission charge

New members and volunteers of all ages are always welcome.

The Badwater Ski-Ters are a non-profit organization staffed by volunteers.

Dan Shaughnessy Back Gainer
2015 Badwater Ski-ters Waterski Show Schedule
Always Fun! Always Free!
| | | | | |
| --- | --- | --- | --- | --- |
| IT'S CRAZY! | | IT'S FUN! | | BE THERE! |
For information on Badwater Ski-Ters please e-mail us at: skiters@charter..net
please remove the extra "." in charter..net for the e-mail address to work properly.

Badwater Ski-Ters
P.O. Box 22
Iron Mountain, MI 49801
Staying in the Iron Mountain Area?
Woodlands Motel, N3957 US-2, on the northside of Iron Mountain at the junction of US-2 and M-95. Phone: 906-774-6106
Lake Mary Resort, 461 Lake Mary Road, Crystal Falls, Ml 49920 Phone (906) 396-7840. Waterfront housekeeping cabins on beautiful Lake Mary near Crystal Falls, MI. Boat included.
Member of the Tourism Association of the Dickinson County Area
Homer and Junior Welcome you to the Badwater Ski-Ters Water Ski Show
---
April 16, 2009
Halee Proclaims Summer is Here
Badwater Lake (Menominee River) in Spread Eagle Wisconsin.
Air 70º Water 52º and some serious floating ice.
All Girls Pyramid skiing under the Portage Lift Bridge
Enjoy a Taste of Summer!
Click Here for a You Tube Video of a Badwater Ski-Ters 2011 Night Show
Information on Iron Mountain Michigan
Back to the Upper Peninsula Traveler Page
Back to the Northern Wisconsin Traveler Page
Team Photo: Sheldon Minsky
Jump Team Photo:: J.Martin
Copyright 1997 by Vivian Wood, webmaster. All Rights Reserved. Except as permitted under the Copyright Act of 1976, as amended, this web site may not be reproduced in whole or in part in any manner. Unless authorized by the webmaster, reproduction of any picture, web page or pages on this website, www.exploringthenorth.com, for placement on the internet is a copyright infringement. All right, title and interest in and to the material on these web pages, the web site, in whole or in part, and in and to this url and the urls contained within, is the property of the webmaster. All website design, text, graphics, selection and arrangement thereof are the copyrighted works of Vivian Wood. Web site created on an Apple G-4