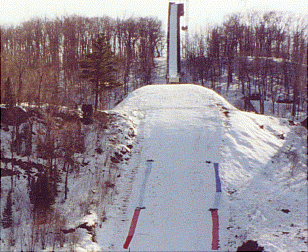 Ski Jumping Competion at Suicide Hill, Ishpeming, Michigan
February 13th, 2008
The 121st Annual Invitational Ski Jumping and Super Tour Event
Wednesday February 13th:
7:00 pm Super Tour Invitational
and 121st Annual Ski Jumping Tournament
Join us at Suicide Hill for great jumping, a bonfire, and spectacular fireworks
Price: $10.00. 15 years and yourger: Free
This years tournament at Suicide Hill will be a one day event held in mid February, 2008 and will feature some exciting ski jumping. The Ishpeming Ski Club is host for the tournament. This will be the 121st consecutive year that the club has presented a ski jumping competition. The tournament has been held at Suicide Hill since 1926. Suicide Hill is a 90 meter jump with an official hill record of 328 feet and unofficial jumps of around 340 feet as of 2001.
Junior Olympics
Feb 27, 28, 29, & March 1st
Ski Jumping at Suicide Hill and Nordic Combined
Wednesday, Feb 27: 9:30 Training
Thursday, Feb 28: 10 am Jumping Competition K60 & Nordic Combined
Friday. Feb 29: 1:00pm Target Jumping Competition
Saturday, March 1: 10 am Nordic Combined & Special Team Jumping
Phone: 906-485-6323 for additional information on the 2008 Ski Jump at Suicide Hill
Visit UPfirst.com for information and photographs
of the 2008 Ski Jumping Competition at Suicide Hill
121 years of ski jumping in Ishpeming
The skiers will compete in a Super Tour Event, one of a series of such tournaments held around the world. The Sunday tournament is the Paul Bietila Memorial, held in memory of the youngest brother of that world famous ski jumping family.
In past years, the Suicide Hill Ski-Jumping Competition in the Upper Peninsula of
Michigan welcomed skiers from the United States, Finland, Germany, Japan, Austria, France, Norway, Canada and other countries. The jumpers came to the United States as part of the ski-jumping circuit, earning points at each jump which applied towards their standing in the race for the individual cup.
They made two stops in the Upper Peninsula: the Pine Mountain Ski Jump in Iron Mountain and the Suicide Hill Ski Jump in Ishpeming.
The main ski jumping sites in North America are Steamboat Springs CO, Lake Placid NY, Westby WI, Ishpeming MI and Iron Mountain MI.
The Ishpeming Ski Club is one of the oldest in the US and has produced many world champions and members of several Olympic teams. Ishpeming is also home of the US National Ski Hall of Fame and Museum, a "must see" for enthusiasts of all types of skiing.
Suicide Hill is also the training site for ski jumpers involved in the US Olympic Education Center program at Northern Michigan University in Marquette. That program will likely produce several members of the US team for the next Winter Olympics. These jumpers will be competing is this years tournament along with some promising local jumpers.
The Ishpeming area also contains over 30 kilometers of cross-country ski trails and those in the Suicide Bowl are rated as among the best in the midwest. Bring your skis, come early or stay after the tournaments and enjoy some great skiing!
While in Ishpeming for the ski jumps, visit the
U.S. National Ski Hall of Fame.
Back to Ishpeming - Negaunee Page
Back to Lodging in the Ishpeming area
Back to Upper Peninsula Recreation
Back to the Upper Peninsula Traveler
©1997 by Vivian Wood, the webmaster for Exploring the North, Inc. All Rights Reserved. Except as permitted under the Copyright Act of 1976, as Amended, this web site may not be reproduced in whole or in part in any manner. Unless authorized by the webmaster of Exploring the North, Inc., reproduction of any web page or pages on the Exploring the North website for placement on the internet is a copyright infringement. All right, title and interest in and to the material on the web pages, the web site, in whole or in part, and in and to this url and the urls contained within, is the property of the webmaster for Exploring the North, Inc. All website design, text, graphics, selection and arrangement thereof are the copyrighted works of Vivian Wood