U.S. SKI and SNOWBOARD
HALL OF FAME and MUSEUM

Ishpeming, Michigan
Located on U.S. Highway 41 and Third Streets, Ishpeming, Michigan
610 Palms Avenue, P. O. Box 191, Ishpeming, MI 49849
Phone: (906) 485-6323. E-mail: administrator@skihall.com
TAKE A WALK THROUGH SKI HISTORY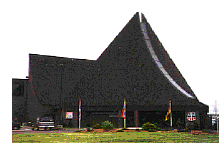 Follow the growth and development of the sport of skiing from its beginnings nearly 5,000 years ago to the present and beyond. There are over 100 displays including The Story of the 10th Mountain Division, Ski Fashions Throughout History, The Development of the Chairlift and lots more.
The Ishpeming Ski Club was organized in 1887, and is one of the oldest continually active ski clubs in the United States. On February 21, 1905, the ski club organized the National Ski Association which is now called the U.S. Ski and Snowboard Association. Ishpeming is known as the "birthplace of organized skiing in America". In 1944, officials of the U.S. Ski Association suggested that a proposed U.S. National Ski Hall of Fame be built in Ishpeming. Built in 1953, The Ski Hall of Fame was housed in its first building until 1992, when it was moved to its present location, a building over five times as large as the original. The new building, with its striking architecture, new displays, gift shop and other amenities make a trip to the U.S. National Ski Hall of Fame a truly memorable experience.
Open year round, Monday through Saturday
Closed most holidays
Open 10 am to 5 pm
Admission is free. Donations are welcome
Free parking,
Gift shop, Library, and Theater.
The Ski Hall Gift Shop has shirts and mugs, pins and pens and more...all with the distinctive National Ski Hall of Fame logo.
Contact the U.S. National Ski Hall of Fame for more information at 906-485-6323
or visit their web site at www.skihall.com
Maps of Marquette County and Ishpeming/Negaunee Michigan
Back to Ishpeming Page
Lodging in the Ishpeming area
Marquette MI Information and Lodging
Recreation & Attractions in the Upper Peninsula
Back to the Upper Peninsula Traveler