Exploring Curtis, MI, the Hub for Recreation in "the Lakes of the Northwoods"
Curtis is a unique waterfront village surrounded by the Manistique lakes, with over 15,000 acres of water. The Big Manistique, North Manistique, South Manistique, Milakokia and Millecoquins Lakes provide unlimited family recreation opportunities.
Surrounded by forests, the Manistique Lakes Recreation Area is a "true north" vacation land. The waterfront village of Curtis is the center of activity. Over 30 resorts and campgrounds, from small to large, are located in the three lakes area. This beautiful vacation area, a favorite for many vacationers for over 80 years, is midway between US-2 and M-28 in the eastern Upper Peninsula. Fishing (walleye, pike, bass, musky, etc.), hunting, watersports and just plain relaxing are easy here.
Winter time provides great snowmobiling. Over 80 miles of groomed trails connect to the 2,500 miles of U.P. trails. Many fine stores for shopping and restaurants. Make the Manistique Lakes Recreation Area your "base camp" for visiting some of the U.P.'s most famous attractions!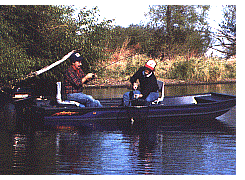 If you enjoy water recreation take a long look at the Lakes of the Northwoods area. The six major lakes are North Manistique Lake at 1,722 acres; Big Manistique Lake at 10,130 acres; South Manistique Lake at 4,001 acres; Milakokia Lake at 1,956 acres; Lake Ann Louise at 311 acres; and Millecoquins Lake at 1,890 acres. With numerous other small lakes in the area, a visitor has well over 20,000 acres of inland lake water to enjoy, in addition to the great lakes of Superior and Michigan, and hundreds of miles of rivers and streams!
The Lakes provide a variety of cool water fish which include: Muskie up to 40 lbs., Northern Pike, Walleye, Large and Smallmouth Bass, Perch, Bluegill, Sun fish, Rock Bass, and Bullheads.
The network of rivers and trout streams provides some of the finest trout fishing in the state, including Brook, Brown, Rainbow, and Steelhead Trout plus the great Smelt runs in the spring.
Most of the lakes are 30 feet deep or less, so temperatures warm early and are very pleasant for swimming, waterskiing and other activities. Boats, motors, jet skis, pontoon and paddle boats are available for rental at area dealers.
Ice forms in early December and provides a great source for cold weather sports activities from late December until spring break in mid April. Ice fishing is spectacular.
The last Saturday in April brings the opening of Trout season and the Smelt runs.
If your vacations are planned with water recreation in mind, come and enjoy the northern experience with us in the Lakes of the Northwoods - "It's worth the drive".
West Mackinac Recreation Area Association covering the western portion of Mackinac County, including south Curtis, Gould City, and Milakokia Lake. Cabins, cottages, resorts, food & beverages, and construction & excavating.
Back to Michigan Towns and Cities Page
Back to Upper Peninsula Traveler
Back to Exploring the North Home Page
Copyright 1998 by Vivian Wood, webmaster. All Rights Reserved. Except as permitted under the Copyright Act of 1976, as amended, this web site may not be reproduced in whole or in part in any manner. Unless authorized by the webmaster, reproduction of any picture, web page or pages on this website, www.exploringthenorth.com, for placement on the internet is a copyright infringement. All right, title and interest in and to the material on these web pages, the web site, in whole or in part, and in and to this url and the urls contained within, is the property of the webmaster. All website design, text, graphics, selection and arrangement thereof are the copyrighted works of Vivian Wood. Web site created on an Apple G-4