Paradise Pathway Cross Country Ski Trails
Tahquamenon Falls State Park Trails
Paradise Michigan
Trails at the Paradise Pathway and Tahquamenon Falls State Park
are used for cross-country skiing and hiking.
Paradise Pathway
The Parking lot and trail head is located 1 mile west of Paradise on M-123.
* * * * * * *
Tahquamenon Falls State Park Trail Map for skiing and hiking.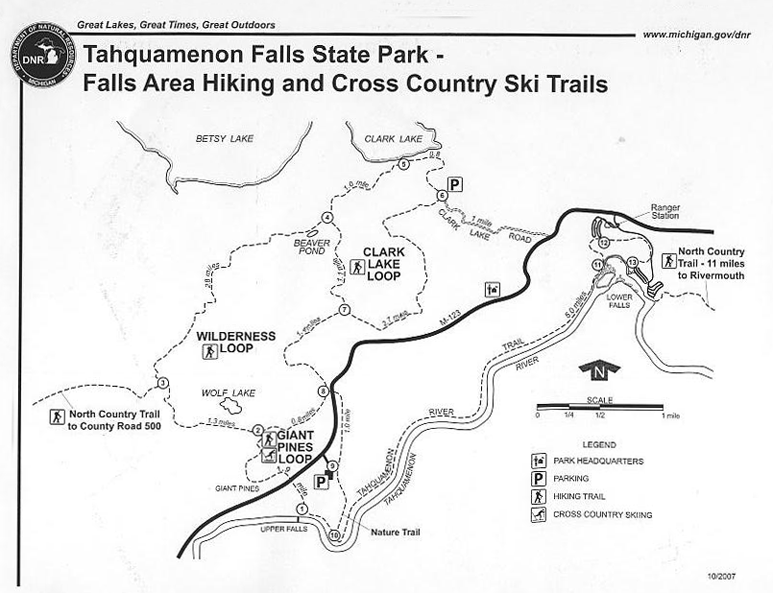 * * * * * * * * *

Exploring Paradise, Michigan
Paracise Michigan, Lodging and Businesses
Recreation and Attractions in the Paradise Area
Upper Peninsula Traveler Home Page
Trail Map for Tahquamenon Falls courtesy of Tahquamenon Falls State Park
Copyright 2002 by vivian wood , webmaster. All Rights Reserved. Except as permitted under the Copyright Act of 1976, as Amended, this web site may not be reproduced in whole or in part in any manner. Unless authorized by vivian wood, the webmaster, reproduction of any picture, web page or pages on this website, www.paradisemichigan.org, for placement on the internet is a copyright infringement. All right, title and interest in and to the material on the web pages, the web site, in whole or in part, and in and to this url and the urls contained within, is the property of the webmaster. All website design, text, graphics, selection and arrangement thereof are the copyrighted works of vivan wood Web site created on an Apple G-4.