Crivitz Wisconsin
Your Four Season Recreation Area for Hunting, Fishing, Hiking, Biking, Camping, Canoeing, Golfing, Whitewater Rafting, Snowmobiling, Cross Country Skiing, Snowshoeing, Ice Fishing or just plain Relaxing.
50 miles north of Green Bay, Wisconsin, in northern Marinette County.
"The Gateway to Wisconsin's Wilderness"
This region has long been famous for its recreational facilities. The Crivitz area offers over two hundred and fifty square miles of all season vacation land, including the Peshtigo River, High Falls, Caldron Fall, Johnson Falls and Sandstone Flowages, Lake Noquebay and Crooked Lake. There are over 6,000 acres of clean water.
The waters offer some of the best fishing in Wisconsin or elsewhere, and fish of unusually large size are common in this territory. This area has the highest concentration of trout streams in the state.
The upper part of the Peshtigo River known as Roaring Rapids and the Menominee River is famous for its whitewater rafting and kayaking. The famous Roaring Rapids Whitewater section on the Peshtigo River offers the longest continous stretch of challenging whitewater in the midwest.
The fall season is a time of adventure and beauty in the Crivitz area. The forests become a wonderland of color and every country road becomes a scenic drive.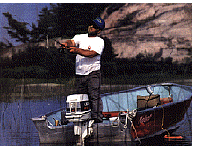 Thousands of acres of public hunting grounds attract growing numbers of hunters each year. Whether you use rifle, shotgun or bow, you owe it to yourself to try at least one season of hunting in the Crivitz area.
Multi-use trails are open for exciting ATV riding throughout the county forests.
The winters are enjoyed by thousands for the great adventures in snowmobiling, downhill and cross country skiing, tobogganing, snowshoeing, ice fishing and the fisheramas.
Hundreds of miles of groomed snowmobile trails await you and there are over 30km of cross-country ski trails off County Road W west of Crivitz. Parking lots adjacent to the trails.
The Crivitz area is a vacation Paradise for people of all ages. If this is what you've been looking for,
You Belong in Crivitz, Wisconsin
Crivitz Lodging and other Businesses
Waterfalls of the Crivitz Recreational Area
Snowmobiling in the Crivitz Area
Recreation and Attractions in the Crivitz Area
Wisconsin Cities and Towns
The Northern Wisconsin Traveler
Exploring the North Home Page
Copyright 1997 by Vivian Wood, webmaster. All Rights Reserved. Except as permitted under the Copyright Act of 1976, as amended, this web site may not be reproduced in whole or in part in any manner. Unless authorized by the webmaster, reproduction of any picture, web page or pages on this website, www.exploringthenorth.com, for placement on the internet is a copyright infringement. All right, title and interest in and to the material on these web pages, the web site, in whole or in part, and in and to this url and the urls contained within, is the property of the webmaster. All website design, text, graphics, selection and arrangement thereof are the copyrighted works of Vivian Wood. Web site created on an Apple G-4