Whispering Pines Outpost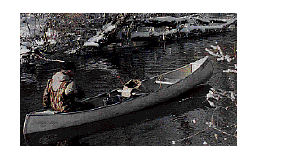 N-4200 M-95
Iron Mountain, MI 49801
(906) 774-1277
We're open 7 days a week
from 7 am to 6 pm.
Black Powder Guns and Accessories, Canoes, Complete Line of Trapping Supplies, Live Specialty Baits, Licenses, Rods, Reels and Other Fishing Supplies, Bows, Arrows and Archery Supplies, Michigan Bear Registration Point. If you need a license, call us and we will mail it to you.
Whispering Pines has specialty live baits for Walleye, Panfish, Northern Pike, Muskies and Perch. Minnows, suckers, nightcrawlers, and thunder-bugs also available.
Bring in your big fish and we'll measure it and take your picture. Taxidermist nearby. Guide service available.
We have a large selection of archery supplies featuring Oneida Bows. Camouflage clothing is available all year around.
For camp, try our blue enamel coffee pots, cookware, cups and plates - familiar to generations of campers. If you love your coffee, you'll love our coffee pots.We also have the metal camp signs.
Whispering Pines has black powder guns and accessories from Thompson, Remington, CVA and Traditions. Wooden ammo boxes always in stock. We feature precision made blackpowder rifles for serious hunters.

When it's time to leave the beautiful Northwoods, stop by for tee-shirts, specialty hunting and fishing souvenirs or home made rugs. We give Gift Certificates.
Come in or call and let our knowledgeable personnel serve you.
Call for fishing and hunting reports or information.
Whispering Pines Outpost
N-4200 M-95
Iron Mountain, MI 49801
(906) 774-1277
Back to the Upper Peninsula Traveler
Back to Home Page: Exploring the North
©1997 by the webmaster for Exploring the North. All Rights Reserved. Except as permitted under the Copyright Act of 1976, as Amended, this web site may not be reproduced in whole or in part in any manner. Unless authorized by the webmaster of Exploring the North, Inc., reproduction of any web page or pages on the Exploring the North website for placement on the internet is a copyright infringement. All right, title and interest in and to the material on the web pages, the web site, in whole or in part, and in and to this url and the urls contained within, is the property of the webmaster for Exploring the North, Inc.