ATV Rentals in the
Upper Peninsula of Michigan
The Upper Peninsula of Michigan has many ATV trails and back roads for great riding.What a great way to explore the beauty of the Upper Peninsula. Your ATV Rental Location will have information and maps so that you will know the local trails where riding is permitted.
TRAIL MAPS (Michigan DNR)
DNR ORV and SNOWMOBILE TRAIL INFORMATION
Curtis, The Manistuque Lakes Area:
Fish and Hunt Shop Sales and Rentals in Curtis MI. 65 miles west of the Bridge in the Eastern Upper Peninsula. Bombardier 330 HO Outlander ATV Rentals. Helmets and trailer rentals. Pick-up and delivery service available. ATV rentals are offered at Sho Shu Inn Cabins in Hulbert and a few additional locations.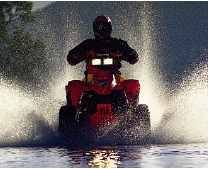 These ATV rentals are located close to lodging and restaurants and have large parking lots where you can leave your
ATV riding is a Fantastic spring, summer, and fall adventure for groups, families and individuals. If you've never tried it, give one of the ATV Rental Businesses a call. They will completely outfit you (except boots and gloves), show you how to handle your ATV, and get you on your way.
Each county has ATV trails and roads for riding and there are DNR designated trails throughout the Upper Peninsula. Caution: Many snowmobile trails are not open for ATVs. Please check with your Rental Outfitter for fun places to ride.
Upper Peninsula Snowmobile Rentals
Outdoor Toys for your Recreational Needs
Back To Recreation Page
Upper Peninsula Traveler Home Page
Copyright 2003 by Vivian Wood, webmaster. All Rights Reserved. Except as permitted under the Copyright Act of 1976, as amended, this web site may not be reproduced in whole or in part in any manner. Unless authorized by the webmaster, reproduction of any picture, web page or pages on this website, www.exploringthenorth.com, for placement on the internet is a copyright infringement. All right, title and interest in and to the material on these web pages, the web site, in whole or in part, and in and to this url and the urls contained within, is the property of the webmaster. All website design, text, graphics, selection and arrangement thereof are the copyrighted works of Vivian Wood. Web site created on an Apple G-4