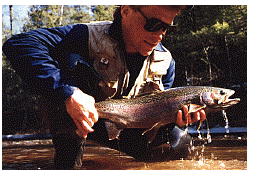 Recreation and Attractions in
Newberry, MI
Located in the heart of the eastern Upper Peninsula,
Newberry is close to everything.
Au Sable Point Lighthouse and Maritime Museum , Pictured Rocks National Lakeshore
Big Spring or Kitch-iti-kipi, Michigan's largest spring. Named the "Mirror of Heaven" by the early Indians at Palms Book State Park on Indian Lake.
BIKING. You can mountain bike for miles and miles on old logging roads and trails through the woodlands. Take a trip out to one of the many lakes and streams or up to Muskallonge Lake or Crisp's Point Lighthouse. Stop along the sandy Lake Superior beach, go wading, or have a picnic. Much of Luce County is within the Lake Superior State Forest, bring your water supply, snacks and a compass.
BIRDING is wonderful in the Newberry area. Here you have an unique opportunity to see many rare and unusual birds. The spring and fall migrations to and from Canada pass over most of Luce County. Enjoy birding at Tahquamenon Falls State Park, one of Michigan's most unique birding locations, and the McMahon Nature Preserve north of Newberry.
CAMPING. The Lake Superior State Forest north of Newberry is full of wonderful camping experiences. Many rustic campgrounds are located in the middle of the wilderness on lakes and streams. Campgrounds have spacious wooded sites, picnic tables, fire pits, and a hand pump for water. Boat ramps. Rustic camping at Rainbow Lodge at the mouth of the Two-Hearted River. Holland Lake Campgrounds is on the ATV trail and open for ORV camping.
CANOEING & KAYAKING. Here is your opportunity for that peaceful canoe trip through the northwoods even it you don't have your own canoe.

The Woods Canoe and Kayak Rental for the Tahquamenon River is located 13 miles north of Newberry on Highway M-123. The Woods offers a variety of paddling trips on the Tahquamenon River beginning near Newberry with shuttle service; daily and weekly rentals for nearby lakes and rivers; and delivery to nearby campgrounds. Family friendly trips with pets welcome. Easy paddling down this calm river with abundant wildlife, fishing, and great photo opportunities. Open dailymid- June through mid-September. Phone: 906-203-7624.
Crisp Point Lighthouse, activated May 5, 1904 at Crisp's Point, one of four Life Saving Stations built in 1876 between Whitefish Point and Grand Marais and named for the Keeper, Christopher Crisp. The Light Station was deactivated in 1947, and Lake Superior took over Crisp's Point as storms badly damaged the Light Station. In 1965 the Coast Guard demolished the buildings, but left the Light tower and connecting service building. Fortunately, Luce County and the Crisp's Point Historical Society took over and they are working vigorously to save the Light Tower. A beautiful drive through the wilderness and well worth the effort.
CROSS-COUNTRY SKIING on the many miles of groomed trails is a wonderful way to spend the day. Canada Lake Pathway just south of Newberry, has 15 miles of regularly groomed trails, 5 miles groomed for ski skating. Tahquamenon Falls State Park has a 4 mile groomed trail following the pathway along the Upper Falls for part of its length. Enjoy the beauty and solitude of the forest and the new fallen snow as you glide through the woods. Back country skiing, or bushwhacking on skis or snowshoes, is a real treat on the hundreds of thousands of acres of state land around Newberry. There are small downhill ski hills with a rope tow at Big Valley Ski Hill just west of Newberry.
Cross-Country Ski Trails in the Upper Peninsula. Mountain Biking in the Summer.
Fall Color Tours in the Newberry area. The Newberry area of the eastern Upper Peninsula is stunning during the fall color season. The flaming maples, oaks and other hardwoods make a perfect backdrop for the calm waters of the inland lakes. Take that walk in the woods, a drive through the forest, or a trip to the Falls. Color is best from the middle of September through the first two weeks of October
Fall Color Tours in the Upper Peninsula
Fayette Historic Townsite and State Park Campground was once a bustling industrial community which manufactured charcoal pig iron for economical shipping to the Great Lakes steel companies.. Take a tour of the 19 remaining structures, visit the museum and learn how iron ore was converted to pig iron in the late 1800's. Camp, hike, fish, scuba dive and boat. Snail Shell Harbor will hold large pleasure boats.
FISHING & ICE FISHING. Four Blue Ribbon Trout Streams are in the Newberry area are the Two Hearted River, the Tahquamenon River, The Fox River and The East Branch of the Fox. A Blue Ribbon Trout Stream, certified by the State of Michigan, must be one of the state's best trout streams, be able to provide an excellent (quality) trout fishing experience, be open to fly fishing, but shallow enough to wade, plus other stringent qualifications. Luce County has thousands of acres of inland lakes plus hundreds of miles of rivers and streams just waiting for you to drop your bait. Ice fishing is as good as it can get, with fish hungry for the "tidbits" they enjoy in the summer.
Great Lakes Shipwreck Museum is located in the old Coast Guard buildings at Whitefish Point. This Museum is filled with artifacts and exhibits honoring the many mariners who traveled the Great Lakes. Watch the video presentation about the Edmund Fitzgerald and the raising of the ship's bell. The bell is at the Shipwreck Museum, engraved with the names of the 29 men who lost their lives in that terrible storm, November 10, 1975.
HIKING opportunities are everywhere on the many trails and old logging roads in the Newberry area. Tahquamenon Falls has an extensive trail system for you to travel or you can walk along the North Country Trail. Be sure to bring along your water supply and high energy snacks, this is the wilderness
HORSEBACK RIDING at WILDRIDGE RIDING STABLES near Paradise, MI. Guided trail rides on beautiful wooded trails throughout much of the year. All trail rides are led by one of our experienced trail guides. We have beautiful horses gentle enough for the whole family to enjoy. Please call to schedule a guided trail ride for riders 8 years and older. Fun for the entire family all year round, but winter riding depends on the weather. Phone: 906-492-3213.
LIFE SAVING STATION HISTORIC SITES. Crisp's Point, Deer Park (Sucker River) and Two Heart Life Saving Station were all were built in 1876 to assist the mariners as they traveled through this treacherous portion of Lake Superior on their way to and from Whitefish Point. Many shipwrecks occurred on this dangerous strip of shoreline. There is little sign that these Stations ever existed as nature has taken the shoreline back to it's original state, but there is a Historical Marker at the mouth of the Two Hearted River where one of the Life Saving Stations was built. You can also see some foundation stones and the area where the cemetery was.
Luce County Historical Museum, 411 W. Harrie Street, Newberry, MI 49868. This unique Queen-Anne Style building is built with reddish stone that is Jacobsville sandstone, some of the oldest rock in the country. The mansion has many stone arches and interesting turrets. The Museum contains many historic photographs, maps, books and documents. It is listed on the Michigan Register of Historic Places and the National Register of Historic Places. Private tours can be arranged. Phone: (906) 293-8108
LUCE COUNTY PARK is located 2 miles west of Helmer on North Manistique Lake. Sand beach. A great place for swimming, fishing, camping and picnicking.
Map of the Tahquamenon River and the Two Hearted River
Morels, the spring hunt for mushrooms is at it's finest in mid-May when the Morels start to appear. This is a great area for finding those delicious treats. Look for mushrooms in recently burned areas and high-ground stands of hardwoods with plenty of leaf cover.
Mountain Biking in the Upper Peninsula
MUSKALLONGE LAKE STATE PARK, Phone (906) 658-3338. Beautiful wooded park located between the shores of Muskallonge Lake and Lake Superior with 175 modern campsites. The park is noted for its forests, lakes, streams and lovely picnic areas. Muskallonge Lake is known for its fine fishing. Rock hunters staying at the park will want to cross over to the Lake Superior shoreline in search of agates. Muskallonge Lake State Park is on the site of Deer Park, a lumbering town of the late 1800's and the location of one of the Life Saving Stations. Day use area for picnics and swimming. Swing sets and slides but no lifeguard. Take M-123 north of Newberry four miles to the intersection with County Road 407. Follow CR- 407 west for 24 miles to the Park.
NATURE PHOTOGRAPHY. That award winning shot is awaiting you around every corner. The woods, streams, wildlife, and Lake Superior provide a setting for an outstanding photo. Try Lake Superior in a storm or some driftwood on the beach. Maybe you can catch a close up of a bald eagle or the Northern Lights as they shine over the Lake.
Off Roading. This is the place for all you lovers of ATV's and other Off-Road vehicles. The Newberry area has an outstanding system of trails for you to ride. There is an ORV campground at Holland Lake or you can camp at several locations along the trail system. You can ride right from your door at some of the motel locations. (Trail Map) .
Pictured Rocks National Lakeshore, located on Lake Superior between Grand Marais and Munising MI. See the waterfalls, 300 foot high Grand Sable Banks, dunes and cliffs. It's easy to view Miners Castle and Logslide.To visit AuSable Lighthouse you need to take a short walk, but the Lighthouse is open during the summer and a Ranger will take you on a tour. What a great place to have a picnic.
Point Iroquois Lighthouse and Maritime Museum Bay Mills Township, Hiawatha National Forest. On Lake Superior near Brimley, MI
ROCK COLLECTING and BEACHCOMBING. You can find unusual rocks and agates on the Lake Superior lakeshore. The Newberry area is one of the few places on Lake Superior where you may find the magnificent banded agate. Go up by Crisp's Point, the mouth of the Two-Hearted River, the flat grassy area at Deer Park, or head down the Grand Marais Truck Trail past Deer Park to the Lake Superior Lookout or go a little further to the Lake Superior Campground. You will find driftwood and wonderful rocks for your collection, or just take a nice stroll on this undeveloped, wilderness shore.
Seney National Wildlife Refuge, Germfask, Michigan This 95,000 acre wetlands is the place for people who love wildlife. From the interesting interpretive displays in the Visitors Center to the wonderful 7 mile drive through the park, you will be thrilled by this wilderness area. Waterfowl abound and birds fly overhead. This is a good spot for biking or hiking along the 60 miles of trails, or taking a canoe down the peaceful Manistique River into the refuge. There are also 10 miles of groomed Cross Country Trails for skiing enthusiasts. The Visitors Center is open from May 15-Oct. 15 but the Refuge is open year round for your enjoyment.
Seul Choix Lighthouse, Park and Museum, Gulliver, Michigan
Snowmobiling, Newberry has it all for snowmobilers. The grooming is done by dedicated experts and an almost perfect trail system which connects to the rest of the upper Peninsula. Ride from your motel door into the snowy northwoods.
Snowmobile Rentals at the Quality Inn and Suites, Junction M-28 and M-123 Newberry, MI 49853. Phone: 1-888-300-SNOW) or (906-293-3218)
Snowmobile Rentals at U.P. Rental. Arctic Cat Snowmobile Rentals located on Highway M-28 near the intersection of M-28 and M-123. Phone: 906-322-8504. Motels within 500 feet. Snowmobile from the rental shop or from most area motels. Rental open from 8:30 am to 5 pm, Monday through Saturday and 8:30 am to noon on Sunday. Rentals also available at Halfway Lake Cottages, north of Newberry in the Lake Superior State Forest.
Snowmobile Museum. Top of the Lake Snowmobile Museum, W11595 Center Street, Naubinway, MI 49762. Phone: 906-477-6298. Michigan's First Snowmobile Museum contains an interesting collection of over 62 antique and vintage snowmobiles along with prototypes and memorabilia. Gift Shop with hats, T-shirts, sweatshirts, and other unique items.
Snowmobile Trail Report for Newberry Michigan
Snowmobile Trails in the Upper Peninsula. (Biking in the Summer)).
"SOO" Locks, Sault Ste. Marie, MI
STARGAZING. The northern Lake Superior shoreline in an ideal place for looking at the night sky. It is very, very dark because there are no towns to cast light into the atmosphere. You will get a view of the northern sky that is not possible at any other location.
Tahquamenon Falls State Park Upper Falls. Open all year round, Tahquamenon Park has close to 40,000 acres of land stretching about 13 miles. Most is undeveloped woodlands, but there is an extensive system of trails throughout the park for your enjoyment. Birding, hiking, camping, canoeing, fishing, nature study, and photography are some of the summer activities and in the winter, cross country skiing, snowshoeing, and snowmobiling on miles of marked trails.
TAHQUAMENON PARK LOWER FALLS is a great place for camping and is connected to the trail system. Rowboats can be rented at the Concession Stand for a different view of the Lower Falls, Row out to the Island for a nice day on the water and some great pictures. Moose are sometimes seen in the park, so be sure to bring your camera.
Tahquamenon Logging Museum and Calendar of Museum Events, 1 mile north of Newberry on Highway M-123. Michigan State Historic Site. Buildings, artifacts, and special events depicting the early lumbering days in Michigan. Events to be held at the Logging Museum include Lumberjack Breakfasts, The Old Time Music Jamboree, and Lumberjack Days.
The Toonerville Trolley and Riverboat Trip, Soo Junction, MI, just north of M-28. Phone 1-888-77TRAIN or the Depot at 906-876-2311. Take the 6 1/2 hour train and boat tour to Tahquamenon Falls or the 1 1/2 hour Wilderness Train Ride on the Toonerville Trolley, one of the oldest and longest 24 gauge railroads in the country. Just 50 miles from the Mackinac Bridge. Board the authentic Narrow-gauge Toonerville Trolley at Soo Junction. You will meet the Riverboat Hiawatha at the Tahquamenon River. Then enjoy a 21-mile boat cruise down the Tahquamenon River to the Upper Tahquamenon Falls. As you travel through the wilderness, there are many opportunities for viewing wildlife. Don't forget that camera! Food, beverages, and restrooms are aboard the Riverboat. A wonderful day trip!
Whitefish Point Bird Observatory is located at Whitefish Point north of Paradise. One of the leading bird observatories in the country and one of the most exciting spots to watch unique birds as they migrate to and from Canada. Beginning with the Bald Eagle and Northern Goshawk migration in mid-March, wonderful birding opportunities continue through late fall. The Point attracts an amazing number of unusual birds. The Visitors Center has interpretive displays and a knowledgeable staff to help you get started. Guided Birding Tours are available from Mid-April plus night excursions to see those wonderful owls. Bring your binoculars and a jacket and spend some time wandering around the Point.
Whitefish Point Lighthouse is located on Whitefish Road, just north of Paradise. Open daily, 10am-6pm, mid-May to mid-October. One of the oldest Lighthouses on Lake Superior, the Whitefish Point Light guided the mariners as they traveled this very treacherous area of Lake Superior and it is still guiding them safely around Whitefish Point today. The Whitefish Point Light Station, established in 1849, is open everyday mid-May to mid-October. The attached Keepers dwelling, built in 1861, has been fully restored and is open for tours.
Whitefish Point Underwater Diving Preserve the home to many shipwrecks is located off Whitefish Point.
County maps are available at the Visitors Center at the junction of M-28 and M-123 or at the DNR Headquarters (Phone 906-293-5131) on M-123 directly behind the Comfort Inn.
Back to Michigan Towns and Cities Page
Back to Upper Peninsula Traveler
Exploring the North Home Page
Copyright 1998 by Vivian Wood, webmaster. All Rights Reserved. Except as permitted under the Copyright Act of 1976, as amended, this web site may not be reproduced in whole or in part in any manner. Unless authorized by the webmaster, reproduction of any picture, web page or pages on this website, www.exploringthenorth.com, for placement on the internet is a copyright infringement. All right, title and interest in and to the material on these web pages, the web site, in whole or in part, and in and to this url and the urls contained within, is the property of the webmaster. All website design, text, graphics, selection and arrangement thereof are the copyrighted works of Vivian Wood. Web site created on an Apple G-4